Conair Sound Therapy (SU1W) noise maker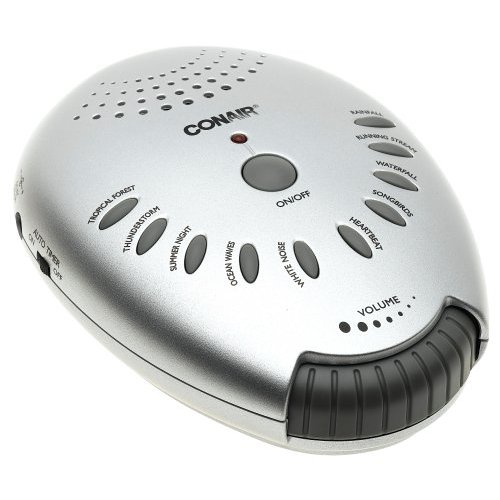 The Quick Answer
The Purchase
We found our Conair Sound Therapy noise maker on Ebay for about $24 including shipping.
Features
AC adapter
10 sounds
60 minute timer
The Real World
---
Dec 4th, 2008
The Conair noise maker (or Sound Therapy) device does a good job of drowning out our noise while our son tries to sleep. The Running Stream sound is better than the others, but I'd guess there are many that would work.

Pros:
You don't have to use batteries, but can when you need to.
The 1 hr. timer is nice to have
There are a few decent sounds
The large volume knob is easy to use in the dark.

Cons:
The sounds are low quality, you can always hear some static. What do you expect for $20 and something that you listen to while you sleep?

The sounds:
Tropical Forest
Thunderstorm - A little speaker like the one in this can't make a decent thunderstorm
Summer Night - the crickets chirp way too fast or too much
Ocean Waves - sounds like white noise with more variation
White Noise
Heartbeat - I suppose...
Songbirds - the birds make a very high pitch sound
Waterfall
Running Stream - One of the better sounds
Rainfall