Ryobi palm sander Review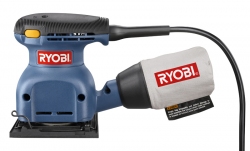 The Purchase
I bought my Ryobi palm sander (S651DK) from Home Depot.
The Real World
June 23rd, 2007

The sander works as well as I expected. I've used many brands over the years and don't really have a favorite.

Pros:
The grip is nice
Comes with a case.
Price ($29.99) - some other brands were twice as much
It sands...

Cons:
The dust bag is almost pointless. A piece of tape over the hole would do as well. The bag doesn't catch much, but without the bag it kicks up more dust because of the air that blows out the hole.
I don't like the push-through on/off switch. A button on each side of the grip pushes in and out to turn it off. A switch in one place is fine with me.
Specs
Motor: 120V AC, 2.0 Amp
Orbits Per Minute: 14,000 (no load speed)
Pad Size: 4.25" x 4.5"
Orbit Size: 1/16"
Cord Length: 10 ft
Net Weight: 3.1 lbs