Mini-Glider bike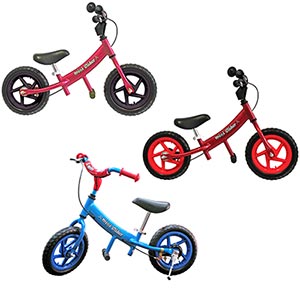 The Quick Answer
So far, so good. We've only put it together.
The Purchase
Costco had a deal, $89.99 shipped to our door! It took a few weeks to arrive
Features
Ages: 2 to 5 years
Select from blue, pink or red
EVA foam tires (never need air)
Lightweight alloy frame
Assembly Instructions included in box with tool
Maximum weight capacity: 100 lbs.
Assembled dimensions: 36" x 25" x 1"
Weight: 8 lbs
Primary Composition: Alloy and plastic
Lifetime warranty
The Real World
---
September 13th, 2010
It is a bicycle alternative that is safe, lightweight and teaches children learn to balance on two wheels. It arrived today and Leah and I put it together tonight. Tomorrow we'll give it to our son and see how he does on it. We'll update this as he goes!

Pros:
Easy to put together
Seems sturdy.

Cons:
"Red" is kind of pinkish
The tires seem like they'd quiclkly wear out - time will tell