LG BD570 WiFi Blu-ray Review
By Mark Sticht

The Purchase
It is hard to go wrong with newegg.com and $70 off helps too!
The Real World
December 17th, 2010

Disclaimer: This isn't a review about the picture quality, how brilliant the sound from this player is or how the reds from this player are so rich and warm that I can turn down the thermostat in my house. You can find that somewhere else. What is harder to find is any information about DLNA (Digital Living Network Alliance) and using media from a home network. Feel free to contact us and ask questions.

We were in a hurry to get a DVD player that could work with Netflix and the media on our home network. The BD570 says it is DLNA compliant and it is working flawlessly with Samba running on Linux. All it took was to punch in a valid user/password and it was up and running. The interface to browse the files isn't the best, but it plays a wide variety of file formats, but not a .vob.

If you stop a DVD in the middle of it and then turn the machine back on it assumes you want to play the DVD - which isn't always the case. It is slow to start up, but works great. For the price and features, so far I'd recommend it.

LG lets you register online for their warranty, but watch out for the sneaky, hidden "send me spam" checkbox. You have to click a button to un-hide it.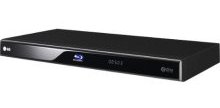 September 27th, 2011

I finally hooked the player up to a wired connection in hopes that it would play my vob files. I thought maybe my wireless wasn't up to par. It still won't play them. Windows, Linux, anything with a decent video play will play them just fine, but not the BD-570 - yes, the software is up to date.

October 8th, 2012

I just setup a new server running Plex Media Server. We first tried it on a Windows Vista Desktop and now it is running in its final resting place, a linux server. Plex indexed all our videos and music. Of the many I've tried, this is the best DLNA server I've tried. The LG DVD player works perfectly with it. I can finally use all the videos and music on my server without even putting in a password. There are also plenty of free Android and iPhone apps to get your media to your phone or tablet. I tried Plex because of our LG TV, but I was happy to find it worked with everything in the house, including a two-year old DVD player.

June 30th, 2015

One day it played a DVD just fine, the next day all it says is "Error" and spits it out. We don't use many DVDs since they all get converted and streamed off the Plex server. Kids don't touch the DVD player (and don't understand why anyone would). It hasn't been moved. There isn't any good reason for it to quit. I'm mostly annoyed because I don't want to buy a new one. We hardly use DVDs. I didn't think the DVD player would go the way of the VCR so soon, but this may have pushed me there.

Pros:
Wireless or wired network
Netflix, YouTube, Pandora, etc
Works with Samba on linux
Works with Plex Media Server on Linux or Windows
Can do a photo slideshow from your home network
Solid - no freeze ups

Cons:
Clunky interface for browsing a home network using Samba or Windows shares.
Slow to boot up
Netflix is slow to start, maybe that is not a fault of the BD570 - seems to be resolved with later software (Sep. 2011)
I haven't figured out if it can shuffle music on a home network.
Specs
Blu-ray, DVD, CD playback
Full-HD, 1080p resolution
Dolby TrueHD and DTS-HD Master Audio Essential
BD Live technology
DivX HD
1 x HDMI out, 1 x USB 2.0
SIMPLINK connectivity