This thing is great! Despite the high price, it is well worth the money. You get what you pay for (see March 26th update) and it looks like it could last a generation or two.
The Purchase
I ordered my GrainMaker from the manufacturer website, GrainMaker.com. It shipped by UPS and took about a week and a half to arrive. I went with "Package A" which includes a clamp to secure it to a countertop.
The Real World
December 18th, 2010

I unpacked the GrainMaker a few days ago and finally had a chance to try it out. This mill is solid. It says it is made in the USA (Stevensville, MT to be exact), but there isn't any need to put that on the mill, it is obvious!
---
December 29th, 2010

We ground two cups of flax seed with the Grain maker. This was a more of a coarse grind. We like to put it in breads, rolls, muffins, etc. With the Back To The Basics ginder we used to use we'd only grind a little at a time because it took SO long. I started with one cup in the GrainMaker, but it was so fast and easy I threw in another. Since flax seed is oily, we had to break down the grinder and wash it. You just unscrew the adjustment knob and pull the plates and auger off - nothing to it. Wash, dry and throw it back together.

This is a great hand grinder, but I'll have to spend some time to make it so we can power it with a bike so we can crank out some tastey bread when the power is out.
---
March 26th, 2011

It has come to my attention that GrainMaker raised their prices almost 69% this grinder and about 54% on the clamp! I think this is a great mill, but I'd hesitate to recommend it to family and freinds at a hefty $675. If the price had gone up before I bought, this would be a review of a Country Living Hand Grain Mill. As of this writing, this is the notice at the top of their website "Due to recent fuel surcharges and the rising cost of materials, our prices have increased." I thinik the real reason is they are getting busy and need to slow down the orders. That should do it!

GrainMaker also introduced a larger mill, Model No.116 (currently $1,200), a kit to run the mill with a motor ($225-$595) and a stand to run the mill with a bike ($285).
---
July 30th, 2014

This grinder is still going strong. Short of grinding rocks I don't know what would break it. I love grinding popcorn to make cornbread.
---
Pros:
Heavy
No power cord
Large pulley so you can drive it with a motor, bike, donkey or whatever you can dream up
Can grind fine flour in one pass.
Can course grind e.g. corn meal

Cons:
Heavy
No power cord
The base of it isn't flat! I don't know if that is by design or just part of the manufacturing process. It seems like it makes it harder to secure to the counter top.
Leaves a lot (1/8 to 1/4 cup) of unground grain in the mill when you are done.
The edges of the hopper are thin, and the corners are pointy, so it is easy to snag clothes (or skin)
---
Specs
Four cup hopper
Long handle with a roller grip
Equiped with a pulley - you can drive it with an electric motor, bike or whatever you can dream up
Made in the USA (except the bearings inside of mine, they are made in China)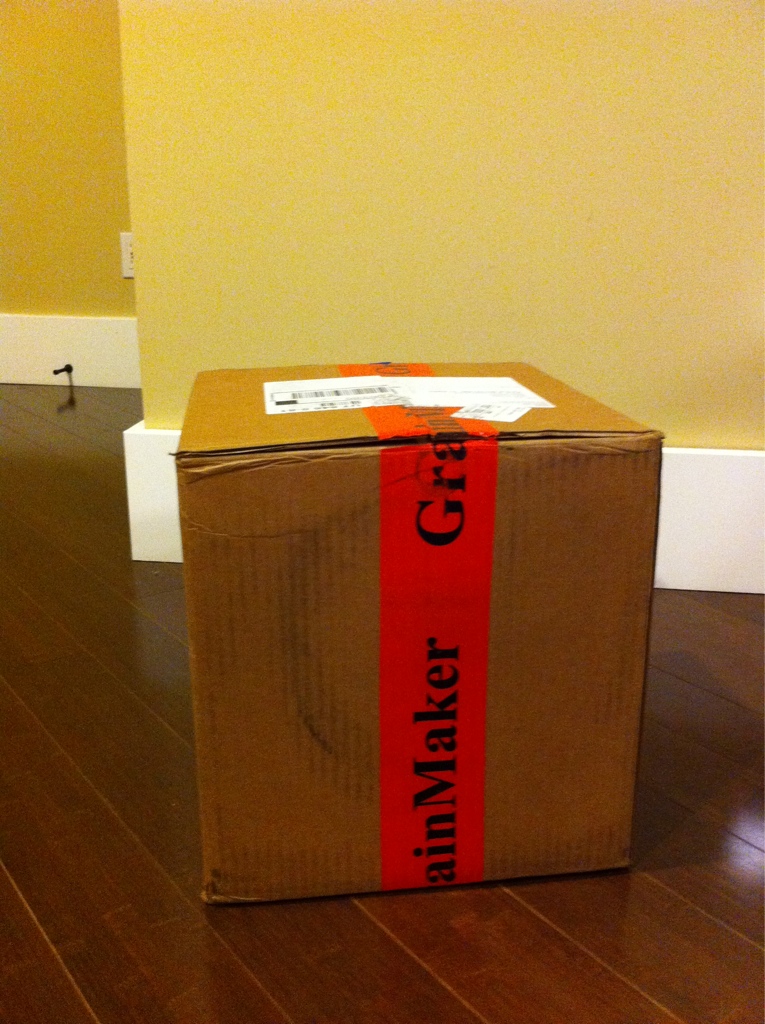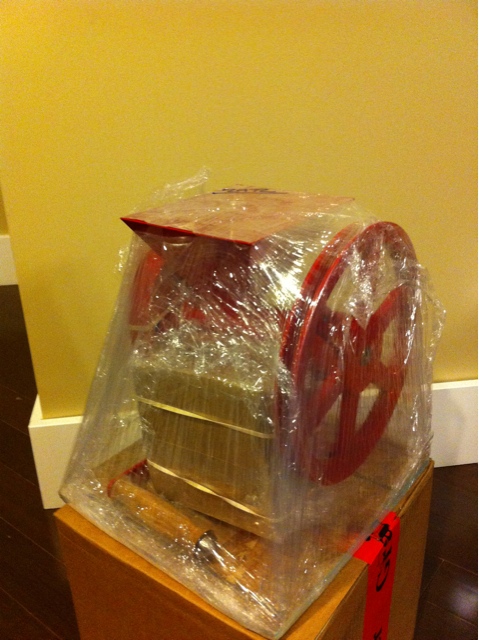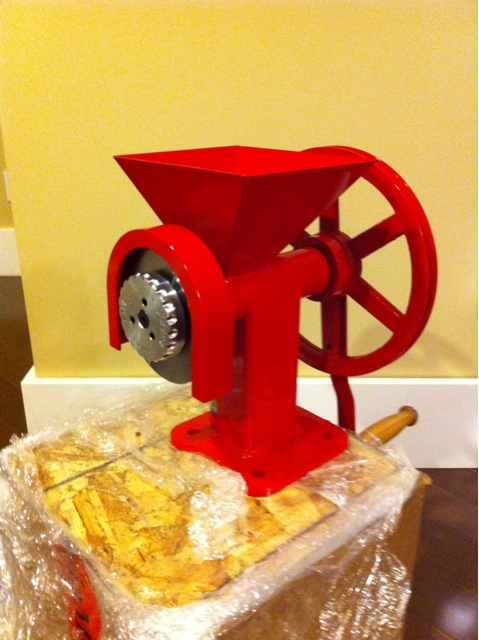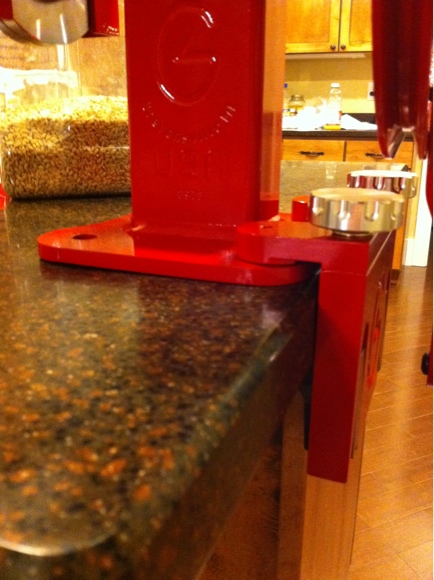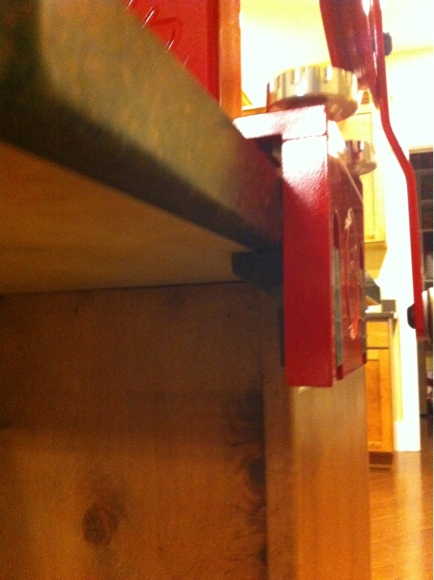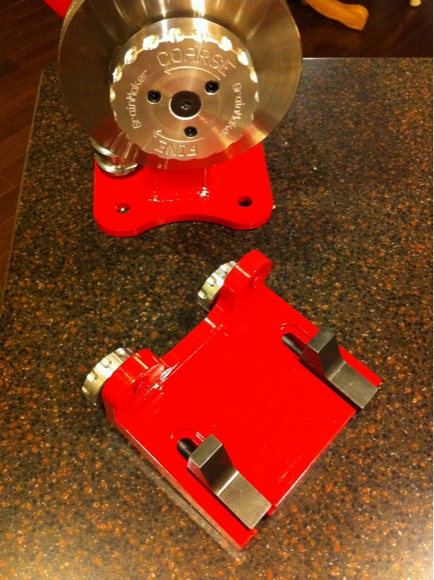 The clamp is optional, but it is heavy and made to fit the GrainMaker.