Back To The Basics Grain Mill Review
By Mark Sticht

The Purchase
When we started to add wheat to our food storage we thought we should also get a hand grinder. We picked up a Back To the Basics Grain Mill for about $50 (it has been years).
The Real World
April 13th, 2010

This grain mill sat in the box for years with our food storage. We finally decided that we should try it out and see how well it worked. To sum it up quick - this grinder is better than nothing, but I wouldn't want to see anyone have to grind four cups of wheat with this thing. Since trying it for wheat, we've only pulled it out to grind flax seed. This grinder can do a course grind just fine, but it is still painfully slow to do. It says it can do a course to a fine grind, but I think it is a stretch of the imagination to say it can do a fine grind. The clamp built into this thing works great.

This grinder appears to go by many names (Victorio, Back To the Basics, etc) and sometimes without a brand name, just as a "Hand-Powered Grain Mill". From the photos, I'd guess they are all the same or close enough that it doesn't matter.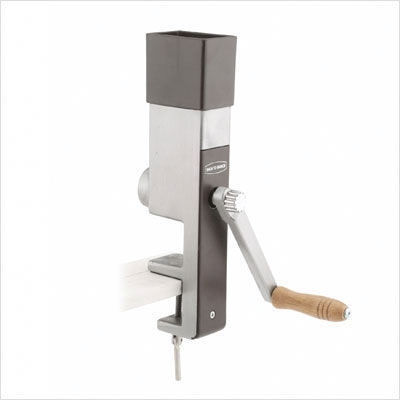 Pros:
Parts nest together for storage
Reasonable price
Clamps to the counter
"Works" when the power is out
Cons:
"Fine" grind isn't very fine
Slower than pounding wheat with two rocks (I can't prove that, but it seems that way)
Anti-gravity feature - flax seed fails to feed well, we use the handle of a wooden spoon to push them down.
Lots of spinning, not much to show for it
Specs
Dimensions: 14"H x 9.5"W x 2.25"D