Harbor Freight Diamond Hole Saw (32400-7VGA)
By Mark Sticht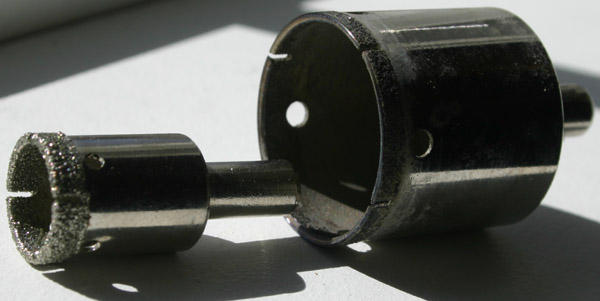 The 1/2" bit on the left is brand new. The 1" bit on the right failed to cut through one tile.
The Quick Answer
The first step is to avoid projects where you need a diamond hole saw. If that isn't possible, at least avoid these hole saws.
The Purchase
Harbor Freight tempted me with a low price on a diamond hole saw. I thought it would be nice to cut a hole in a tile to put a pipe through instead of putting two pieces around it.
The Real World
Oct 4th 2007
Yesterday I attempted to make a 1" hole in a tile for the pipe to feed a toilet. I made a 1" hole in a board and clamped it to the tile so the bit wouldn't walk all over. The board/clamp setup worked well, it was easy to get a start in the tile. I tried to take it easy on it and keep it cool with a puddle of water and by stopping a few times. I made it about half way through before it was clear that it wasn't going to get any farther than it was.
I'd like to say how well they cut glass, marble and slate, but it didn't survive the tile.

Pros:
It has diamond in the name. (Yes, I have to stretch that far to find something positive about these)

Cons:
Cheap diamond dust doesn't last.
Failed to cut through one tile before it was worn out.
Features
Shank: 1/4"
The diamond coating on these saws give superior performance and life. Excellent (right..) results in glass, marble, slate, and tile. Nickel plated.