Paloma/Rheem 7.4 GPM Indoor Tankless Water Heater Review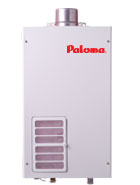 The Purchase
I bought my Paloma Tankless Water heater Ebay. It was new, in the box and a post-recall. It included the 4" stainless steel vent kit to vent out the wall and one remote to control the temperature. This is the indoor (non-direct vent) model. It draws from the surrounding air and pushes the exhaust outside. It is advertised as the right size for a 2-3 bathroom home or 7.4 gallons per minute.
The Real World
Nov, 2007

We went with a large tankess water heater so we could have enough hot water to fill our giant tub in the master bath. I liked the idea of saving energy too, but our local utility makes that hard to accomplish with a $16/month minimum on the gas bill. We were under that minimum price in our old house with a cheap 40 gallon tank, so using less natural gas during the warm months doesn't save us any money. We built with this in mind so we didn't have any issues with having a large enough natural gas service to feed this and our furnace at the same time. If you are adding a tankless to an older home you'll have to make sure your home has sufficient natural gas supply and a way to vent it.

Some confusion! The heater, documents and nameplate with the serial number all indicate it is a Paloma water heater. When I called Paloma they said it was a Rheem. OK, whatever... It looks like the current model number for Palmoa is PH-28R IFSN. Rheem doesn't have an indoor, 7.4 GMP, non-direct vent model on their website right now.

Dec 9th, 2009

Today our water heater went out. The remote in the master bath showed C7 & then 76. I tried lowering the temperature and tried again only to get a C4/76. A search online showed a bad PCB and there was a chance it would make hot water if the remote was disconnected. It didn't work for us.
I called Rheem (1-866-720-2076), since in the past Palmoa didn't want to claim it. I gave my model, serial number and error code and was promptly transfered and had to provide the same information. I was told they'd ship me a new PCB overnight. That was easy!

Dec 12th, 2009

I called Rheem/GE technical support (that is who sent me an email with directions on how to install the PCB). It was a Saturday and it took over 45 minutes to talk to someone and find out that the package was shipped to the wrong address. I was a little ticked off because I spelled the street name twice. The rep called Fedex and corrected the address and told me it would be out that day (Saturday) or on Monday. I wasn't ready to wait all weekend without hot water, so I called Fedex and was told the package wouldn't move until Monday. I decided to make the 30 minute drive to pick up the part.
The installation isn't too bad. The directions they emailed are improved over the printed ones that shipped with the part. A short while late we had hot water again! The PCB has changed, maybe I'll post the photo of the old and new one. I hope it is a change for the better. The Fedex package included a PRP label to return the old part so they can figure out what went wrong and improve it. Rheem also shipped the high-altitude chip to program it to burn better at 4,200 feet. Once you program it you remove the chip. That explains why there are chips for sale on ebay.
We've been using this for two years now. Other than the dead PCB it works great! It can keep up with two showers even in the winter. A shower and other appliance like a diswasher or wasing machine isn't a problem at all. It fills up our 72"x42" tub and keeps on going. If it fits your budget (and house), tankless is the way to go!

Dec 13th, 2010

It has been a year since the PCB went bad and I'm happy to say that I've gone all year without thinking about my tankless hot water heater - except for maybe when I'm in the shower and realize I'll be late for work many times over before the shower ever runs out of hot water!


Pros:
Cranks out steady hot water
Does not take up a lot of room
Only heats water when you need it (and all the other pros of a tankless water heater)
Good support and warranty
You can lower your water temperature to something safe and still have hot water at the end of a long shower.

Cons:
Since this model is a large one, it takes a flow of 2/3 of a gallon per minute to turn it on. Our dishwasher doesn't draw that much so it never get warm water unless we run something else while it is filling up. (Update - after the PCB change and high altitude adjustment it will turn on for the dishwasher.)
The stainless vent is expensive! Lucky for us we didn't have to run too far with it, just up and out the wall.


Dec 25th, 2012

I finally hooked our water heater up to a Kill-A-Watt meter to see how much electricity it draws. Here is what I found during 362 hours (15 days):
Idle: .13 amps, 10 watts
Running: .41 amps, 45 watts
Total used in 362 hours: 3.05 Kw
Your results will of course vary, depending on how often you keep it busy making hot water.
Specs
Natural Gas Model Number
PTG-74PVN-1
Rated Gas Input(BTUs/Hr.)
Min: 19,000
Max: 199,900
Dimensions (Inches)
14-7/8 (W) x 25-3/8 (H) x 11-1/8 (D)
Empty Net Weight (lbs.)
55
Working Water Pressure
14 psi (minimum); 150 psi (maximum)
Water Flow Rate
0.66 GPM (minimum)
7.4 GPM (maximum) (23 psi)
Gas Connection
3/4" NPT Female (With Supplied Gas Shutoff Valve)
Water Connection
3/4" NPT Male
Vent Size
4" Special Venting
Efficiency Rating
84%
Energy Factor
0.82
Electrical Rating
120 VAC/60 Hz, Less than 2 Amps
Equiped with power cord, or can be direct wired with a switch near by.
Expandable
EZ-Link cable available for high demand applications to connect two tankless units to operate as one