Harbor Freight Nail Punch (41988)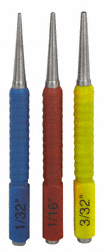 The Purchase
I don't expect too much when I grab something from Harbor Freight Tools. This set of three punches set me back $3.99. This products sets a new low. They are not worth the ink it took to write CHINA on the side of them.
The Real World
Aug 20th
I've only sunk about 20 finish nails with these punches. I've used two different ones, but the one I used most is already starting to mushroom on the end of it. These punches are cheap pieces of junk that should be avoided at all costs. If you really need to set a nail, you might be better off using a 16d nail.
Oct 13th

Lucky for me I found my Made in the USA, Stanley punch and can toss the Harbor Freight junk in the trash. I have no idea how old it is, I might have bought it at a yard sale. The end of the Stanley punch is in great shape after sinking countless nails.

Pros:
Molded rubber makes them easy to grip.

Cons:
Cheap metal doesn't hold up to a finish nail going into OSB.
Obviously not heat treated or black - check their own photo.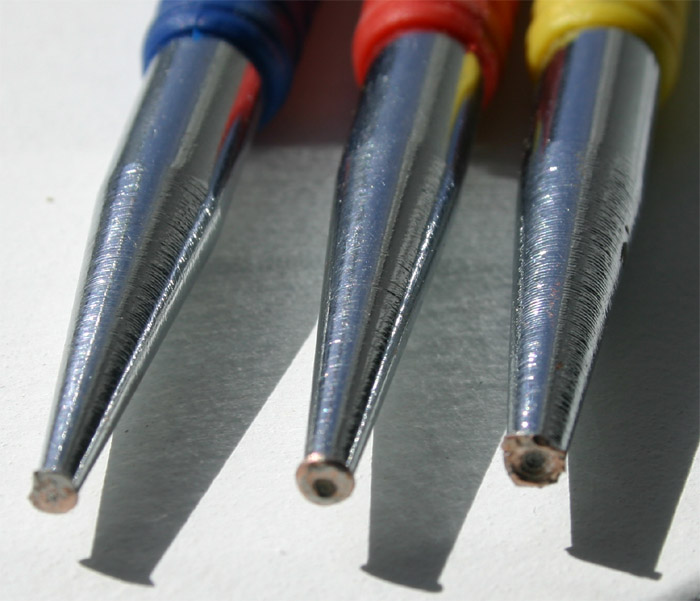 Do these punches look like they are heat-treated with a black finish? They feel like chrome plated bronze!
Features
Sizes: 1/32", 1/16", 3/32"
Heat-treated, black industrial finish (Mine were not black, and not heat treated in a way that is of any benefit)
Rubber molded grips
4-7/8" overall length