Delta 12" Double Bevel Compound Miter Saw (36-412)
By Mark Sticht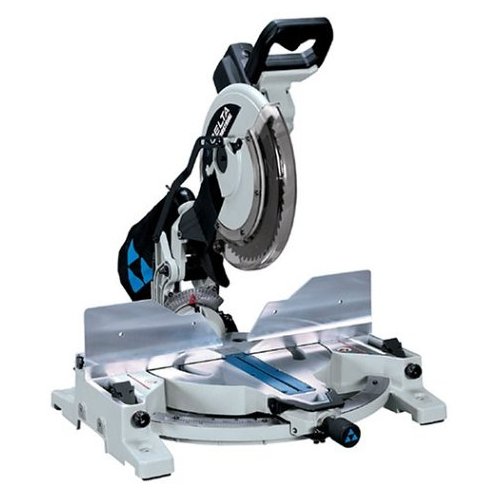 First Impressions
I've spent a lot of time using an older Dewalt compound miter saw. I'm amazed at how many features Delta added to this saw. Most of the new features are pretty small, but together they make a big difference. I think my three favorite features will be:
The front bevel lock with positive stops.
I always hated reaching to the back of the Dewalt saw to loosen the knob for a bevel and then try to tighten it up while holding the exact angle I needed. The Delta saw has stops at 45oL, 33.9oL, 90o, 33.9oR and 45oR.
The two integrated, flip-up clamps will be great.
They are attached to the saw so I can't loose them and they fold down out of the way when I don't need them.
Two squeeze-release sliding fences.
It is always nice to support the work as much as possible. On the Dewalt I'd move the fence out of the way for a compound cut and wouldn't bother to put it back. With the squeeze release on the fence I can reach back and move it with one motion and it will say put.
Price
I bought my 36-412 miter saw on Ebay. The price was just under $300 and included shipping.
The Real World
We used this saw to trim all our doors, windows and base. We put down about 1,000 sqft of 5/8" bamboo on a 45o layout. This saw is great. One trick you might need is to put a scrap of wood between the fence and your stock to cut. Near the fence the teeth on the blade are spinning up out of the stock instead of down into it. If you are doing something like the bamboo floor, this will cause it to tear out a bit right by the fence. The other way we avoided it was to slap a piece of masking tape on the flooring. This saw is solid, easy to adjust and a pleasure to use.
Features
Rear blade access and secondary blade guard for cutting up to 9-1/2" base or 7-3/4" crown molding
Ability to crosscut a 2" x 10" lumber
Front bevel lock with 5 adjustable positive stops
Large readable scale for making quick and accurate compound cuts
Quick-action cam-lock miter lock with 9 positive detents
Large etched scale for maximum accuracy and easy adjustability
Two squeeze-release sliding fences for increased work support
Excellent for handling large work pieces and crown molding
Two integrated flip-up crown molding stops for safe accurate and repeatable vertically nested crown molding cuts
Base designed for either bench or job site 2 x 4 sawhorse mounting
Built-in arbor lock for easy single wrench blade changes
Large easy-grip handle is positioned horizontally to reduce operator fatigue and provide better control during operation
Description
Delta 12'' Dual Bevel Miter Saw with Front Bevel Lock.
Motor, 15 amp.
Blade Diameter 12'', Arbor: 1''.
Speed: 3500 rpm.
Capacity: Crosscut: 9" x 2 1/2" or 2" x 10" dim. lumber, 5 1/2" x 3 1/2" or 4" x 6" dim. Lumber with spacer.
Miter at 45 degrees R & L: 6 1/2" x 2 1/2", 3.5" x 3.5" or 4" x 4" dim. Lumber with spacer.
Bevel at 45 degrees L: 2" x 10" dimensional lumber, 9 1/4" x 1 1/2", 8" x 2".
Bevel at 45 degrees R: 1" x 10" dimensional lumber, 2" x 8" with spacer.
Compound 45 degrees x 45 degrees 6 1/2" x 1 1/2".
Fence Size: Right Side: 5 1/4" x 11 1/8", Left Side: 5 1/4" x 11 1/8", Left Side (with fence extended): 5 1/4" x 17 1/4".
Table: Diameter: 14 1/4", Sides: 4 5/8".
Miter Stops: 0, 15, 22.5, 31.62, 45 degrees R & L.
Bevel Stops: 0, 33.9, 45 & 48 degrees R & L.
Tool Dimensions: Height: 19 1/8" x Width: 24 3/4" x Depth: 26 3/4".
Weight. 52 lbs.