Senco FinishPro 35 Angled Finish Nailer
By Mark Sticht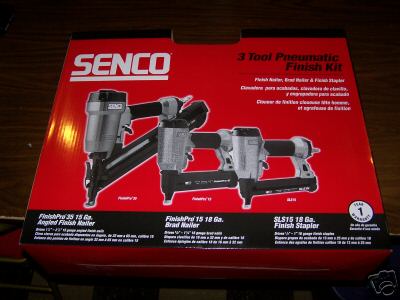 The Purchase
I bought my FinishPro 35 on Ebay. It was part of a three pack that included the FinishPro 15 and SLS15 medium stapler.
The Real World
---
April 29th, 2007
I've only had a chance to use the FinishPro 35. It worked great, never had a miss fire and is nice and light.
---
May 12th, 2007
Today we used the FinishPro 35 to put up shelves in our closets. This is the lightest gun I've used for work like this and I have to say it was a welcome change. It worked flawlessley all day and I look forward to using it on our doors and trim.
---
May 19th, 2007
I've put about 1,000 nails through this gun and haven't had a single problem. Other than putting oil and nails it it I haven't had to adjust or do anything to it - it just works.
---
September 9th, 2007
This gun works great for hardwood floor. Once the Ramsond Flooring Nailer wouldn't fit between the floor and wall, I'd shoot a 2" finish nail through the tongue. It worked great to hold it about a 45o angle. For my 5/8" floor I had to hodl the gun slightly off the floor. After a while I learned the feel of the rubber foot on the side of the plank and could move pretty quick. Since I put down my floor on a 450 angle, I had lots of corners to work into where I could only use this gun. Once the FinishPro 35 wouldn't fit, the pieces were so small that I just used the FinishPro 15 to put a brad right through the face, but close enough to the edge that it will be coverd by the base.
Features
Drives 15 gauge nails from 1-1/4"—2-1/2"
Light weight: 4.7 lbs
Adjustable depth-of-drive
Adjustable exhaust
Easy-clear latch to clear jams fast
Full soft grip — For comfort and control
No-mar pad — To protect work materials
Available in dual action or restrictive fire
One-year warranty